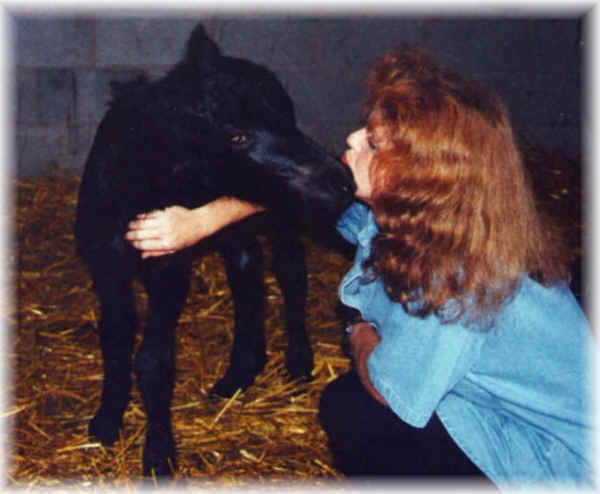 Laurelhighland English Rose, 2000 filly out of Guards Blossom by Waverhead Prince II, giving Mary Jean
a "smooch" when just a few hours old.
The Benefits of Imprinting Foals
What is "imprinting"? It is similar to the concept of imprinting ducklings. You know, if the duckling sees you before its mom at birth it will follow you around like its mother?! Imprinting a foal refers to a training technique developed by Dr. Robert Miller, DVM. At the time of birth, foals can absorb more information than at any other time. Lessons learned at this early age can last a lifetime. Imprint training is efficient (a lesson learned in a few minutes at birth can save HOURS of aggravation later if trying to teach an older foal the same thing). It also gentles the foals and prepares them for schooling later. Early exposures to certain stimuli allow the foals to accept the same stimuli later without fear, especially regarding humans. This technique includes doing things like rubbing the foal all over, pulling at ears, putting on halter, pressure on poll, taking a temperature, picking up feet, making loud noises, etc. It works best if you work with the foal as soon as possible after it is born (even before it stands) and then repeat the exercises within the first 24 hours during the "receptive" period, before the "fight or flight" instinct overpowers the foal's natural curiosity and receptiveness. Immediately after birth, the foal at this stage will usually "let you do anything" with little fuss -- of course there is no guarantee Mom won't fuss but she is often too weary at this stage to fret too much! If you don't use the technique within this time frame, it doesn't work. We are believers in this method of training and make every effort to imprint all our foals in a similar fashion. And when you start with a foal like a Friesian or a Fell that has a genetic predisposition to having a nice temperament, the combination is outstanding. With barn camera surveillance, I was able to work with the Fell pony filly shown above within minutes of birth. (She was literally just hitting the ground when I saw she was born on our barn cameras.) I'm sure this early handling established a bond or trust of humans more easily, allowing her to be willing to leave her mom and come over to me anytime I called, even when she was just days old. I'm sure her new owners will attest to the fact that she still seems to prefer to be in a human's "lap" as opposed to anywhere else!
After imprinting, our foals continue to receive daily, individualized care, while also enjoying the additional social benefits of life in a herd. This combination of herd life and positive human interaction provides the foal with the best social skills possible, helping to prepare them for anything life has to offer!
Fell Ponies & Friesians For Sale
For more information about our breeding stock, see Our Fell Ponies or Our Friesians.
For more recent updates on our new babies and all of our farm happenings,
Follow us on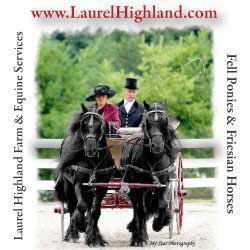 Many of our foals have been reserved before birth if not before conception! Please feel free to contact us for pricing information and currently available Fell pony and Friesian foals and/or weanlings for sale. We occasionally have older stock for sale. The list below is not necessarily up-to-date so please contact us directly if you are interested! Right now, because of these very tough economic times, we have an unusual number of fantastic quality ponies available! So we hope you take advantage of this great selection and affordable pricing!
Also, please note that although our foals are in high demand and are often reserved before birth
for guaranteed sound/healthy foal, the sale is not finalized until foal is born and guarantee is satisfied. We have taken many years and great care in selecting top quality breeding stock and take great pride in all of them, and we strive for all of their offspring to live up to the same standard. . .or better!
Note: Some foals noted below have been reserved with a gender guarantee (either as fillies or colts) by return customers. Since we don't know the gender in advance, a few of these could thus become unexpectedly available after birth if they are born the opposite gender.
If you are interested in going on the waiting list for our foals, please contact us.
All of our Fell pony foundation breeding stock were imported from England.

A video of the colts we have for sale is shown below via YouTube:
Another video below is of our lovely stallion, Waverhead Model IV, sire of one of the colts for sale and grandsire of the other. Waverhead Model IV usually stamps
his offspring with his great bone and fantastic movement. He also has foals to his credit in England, and has offspring due in Belgium in 2013 as well.

*** 2012 Black Stud Colt "Laurelhighland Jack of Diamonds" Available ** (by Private Treaty)
Ludworth Lady Grey X Laurelhighland Union Jack
Jack of Diamonds is named in honor of his sire's first-born offspring, as well as in honor of Her Majesty's Diamond Jubilee. He is a gorgeous colt with a great big trot like his sire.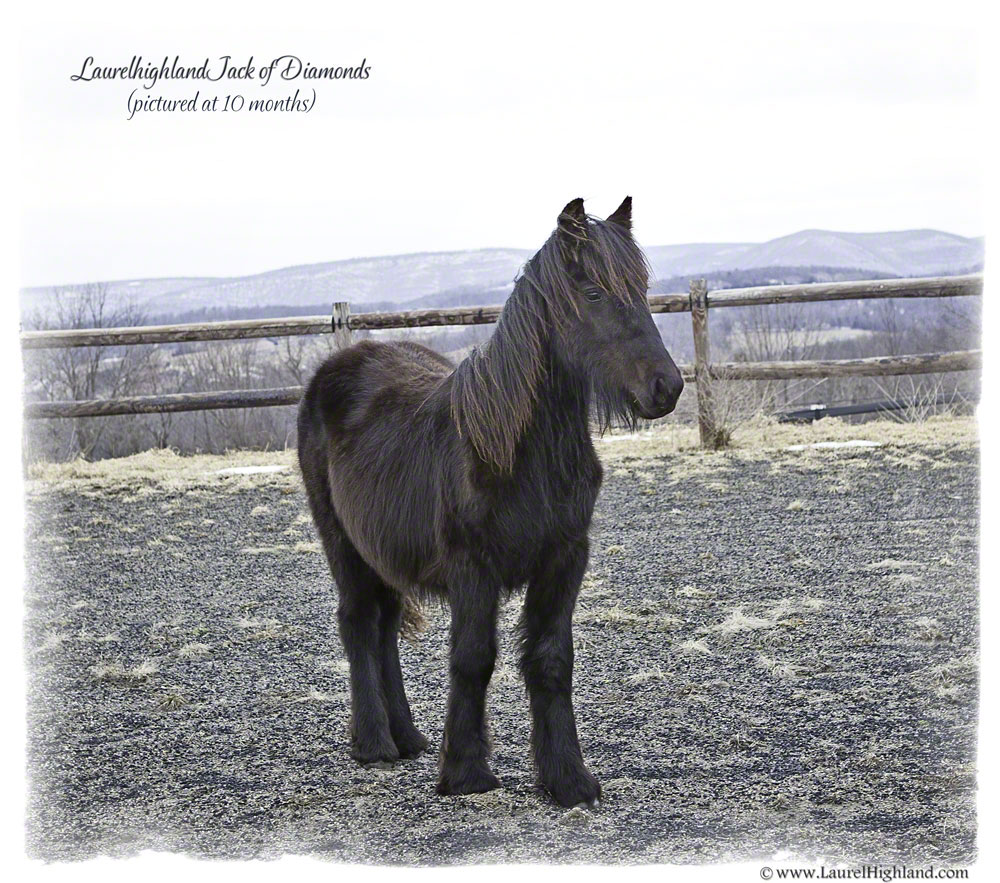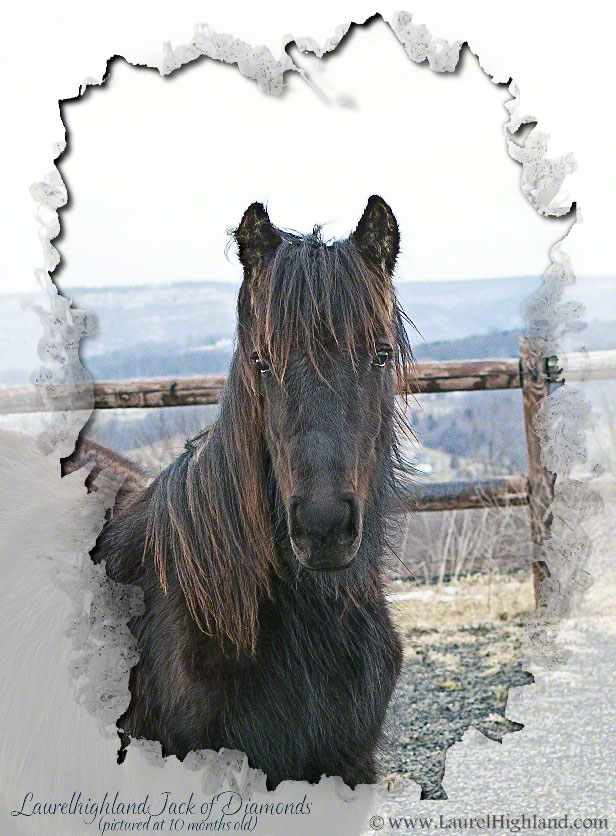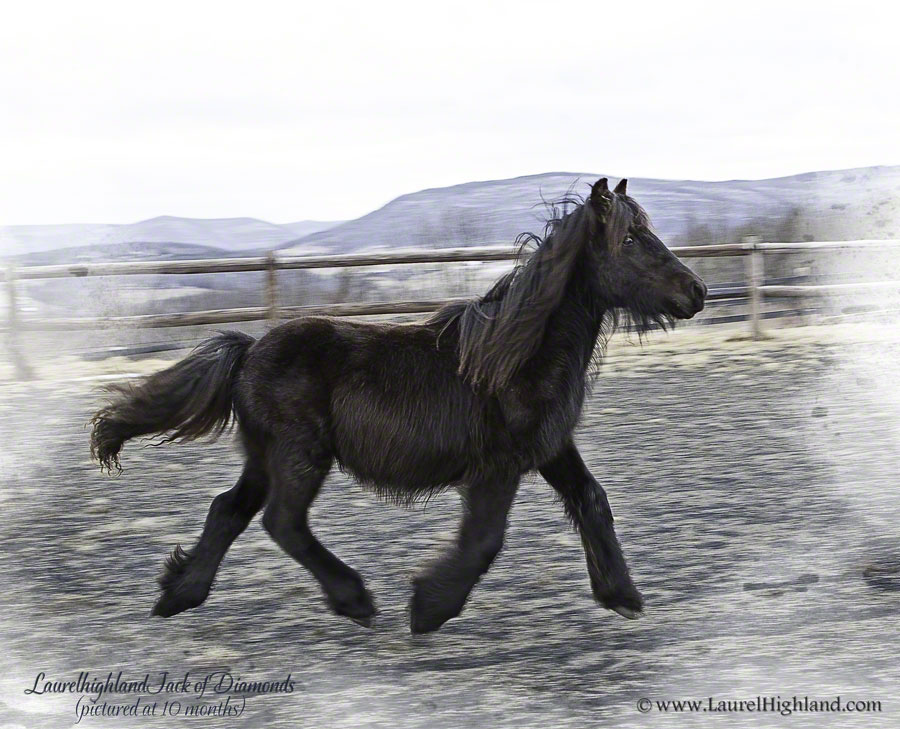 Above are most recent photos in late March 2013, pictured at approx. 10 months of age. He has his sire's great big eyes - and extreme hairiness!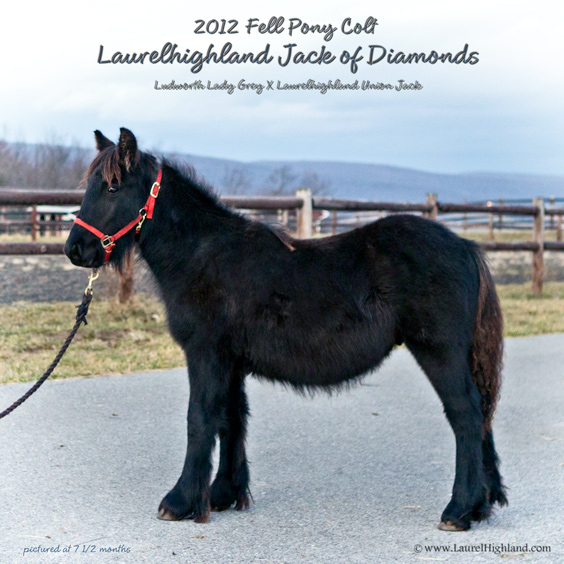 (Shown above at 7 1/2 months and below as newborn, at 6 weeks and at 4 months)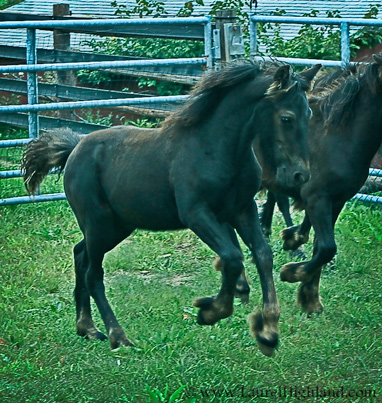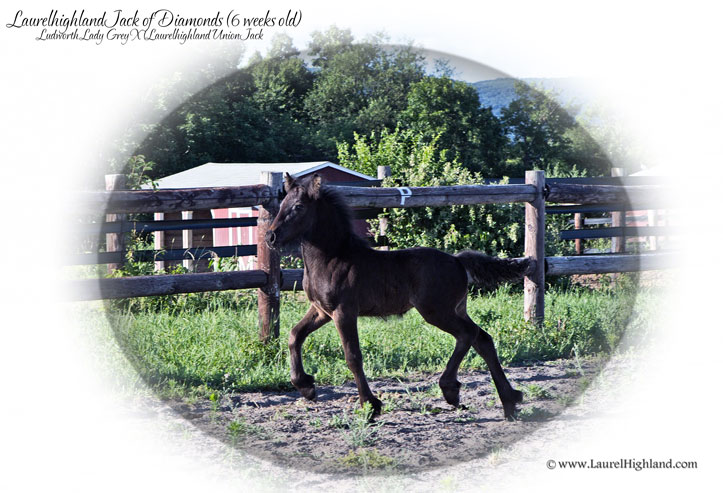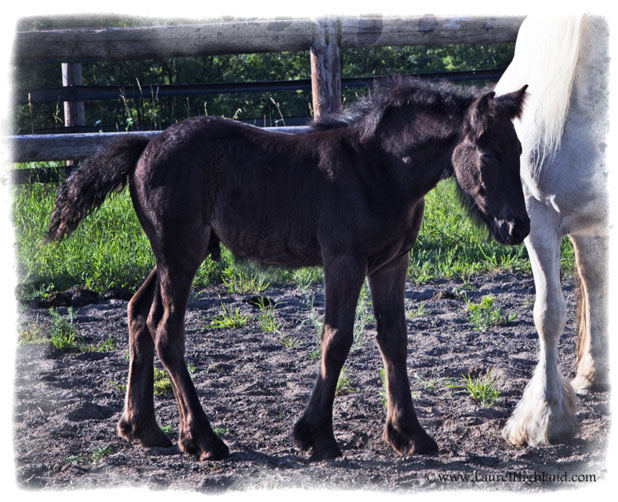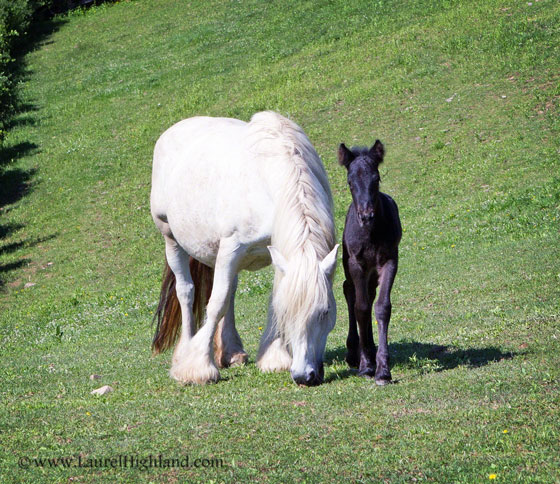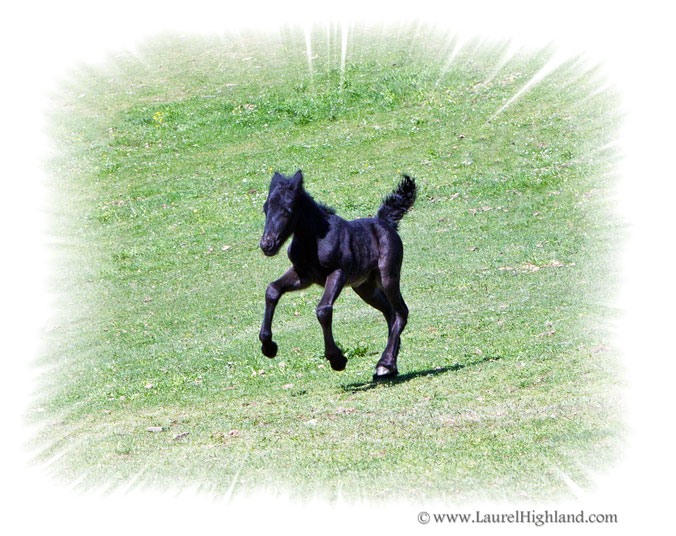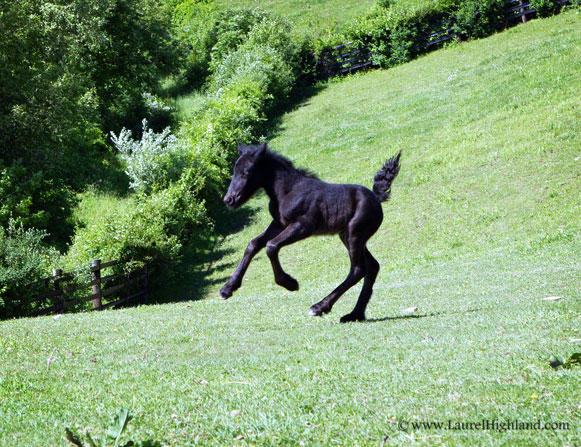 *** 2012 Solid Black Stud Colt "Laurelhighland Model" -- Available ** (by Private Treaty)
Sleddale Wild Rose V X Waverhead Model IV
Young "Model" is a gorgeous black colt with beautiful movement. He is a full brother of the stunning mare, Laurelhighland Blossom, and looks very much like she did as a foal. His dam came from a semi-feral herd in Cumbria. He is named after his sire, a champion in harness.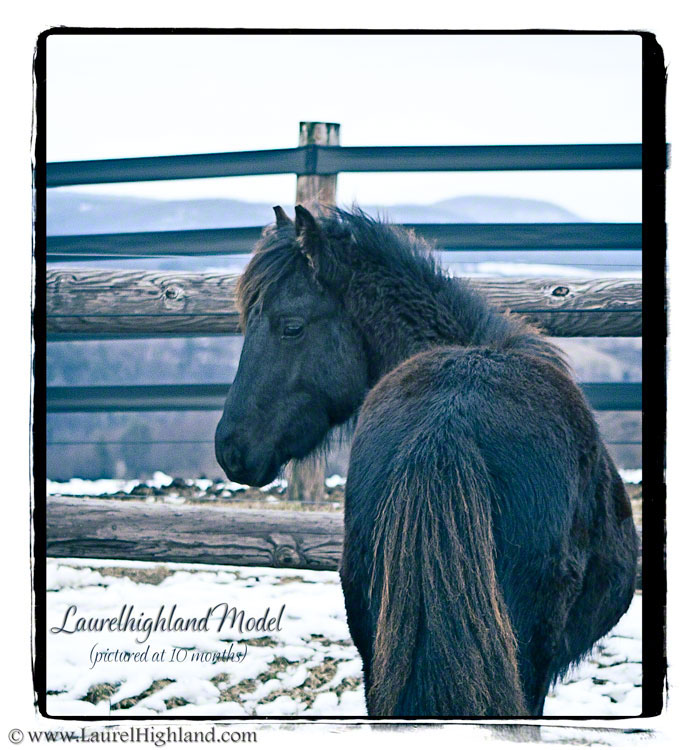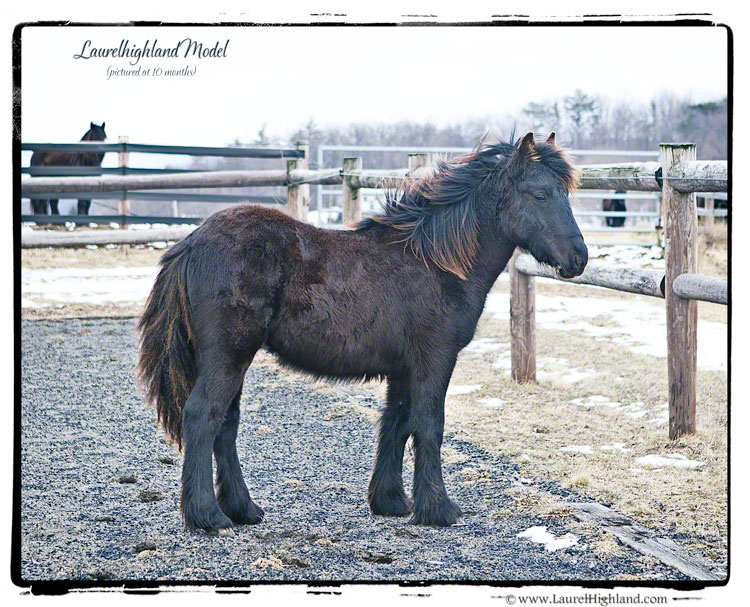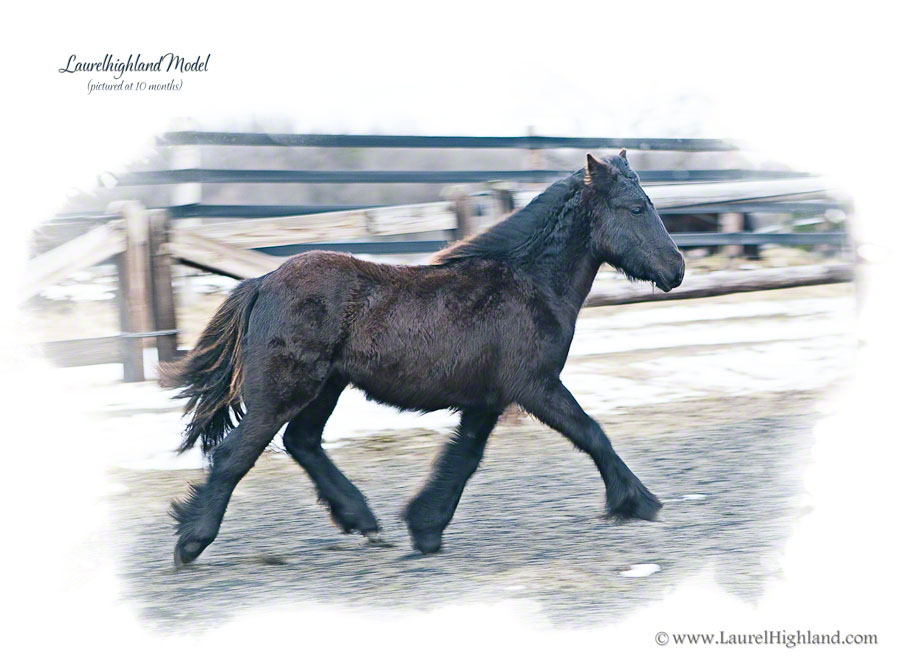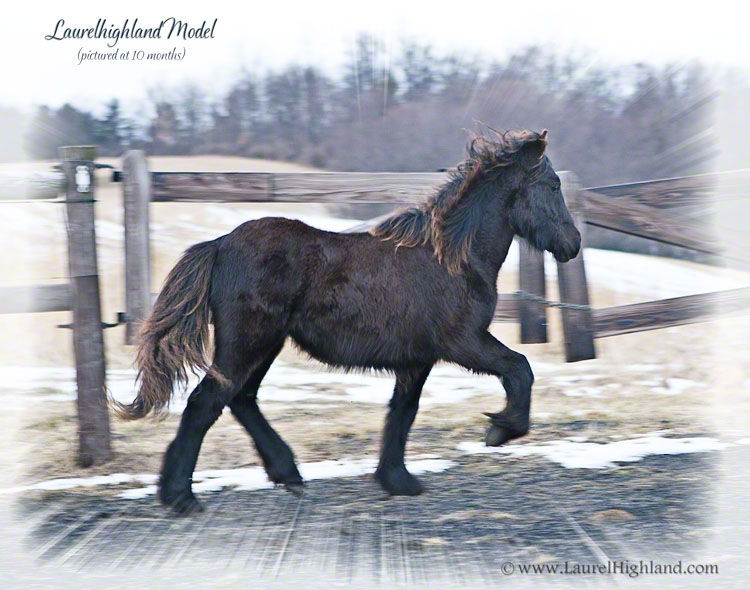 Above are most recent photos in late March 2013, pictured at approx. 10 months of age. He is very quiet and good-natured.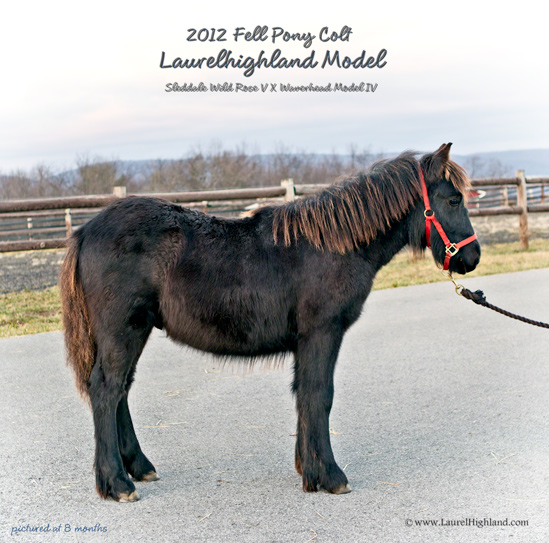 (Shown above at 8 months, and below as newborn (just hours old, before his legs had completely "unfolded"!), at 6 1/2 weeks and at 4 1/2 months)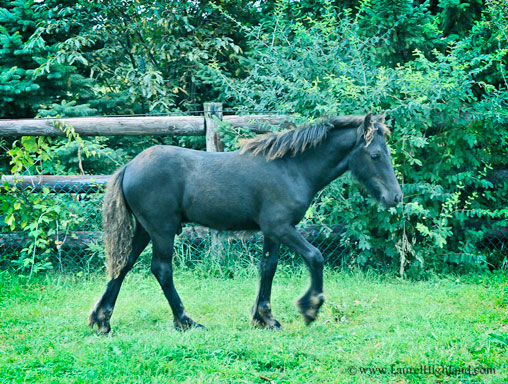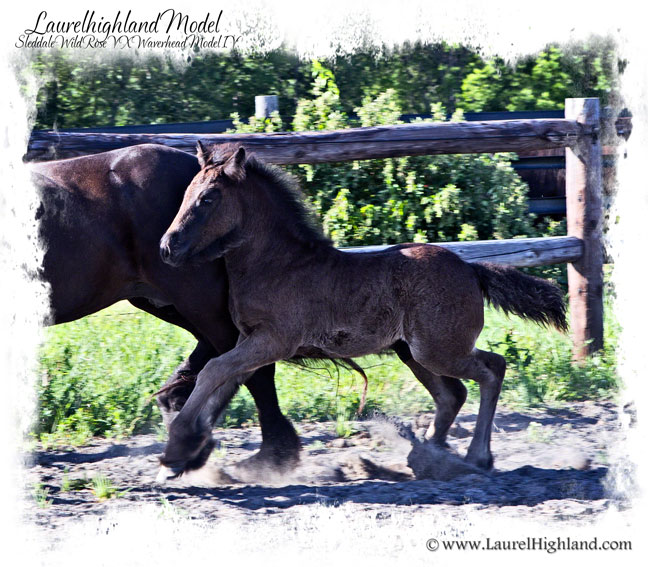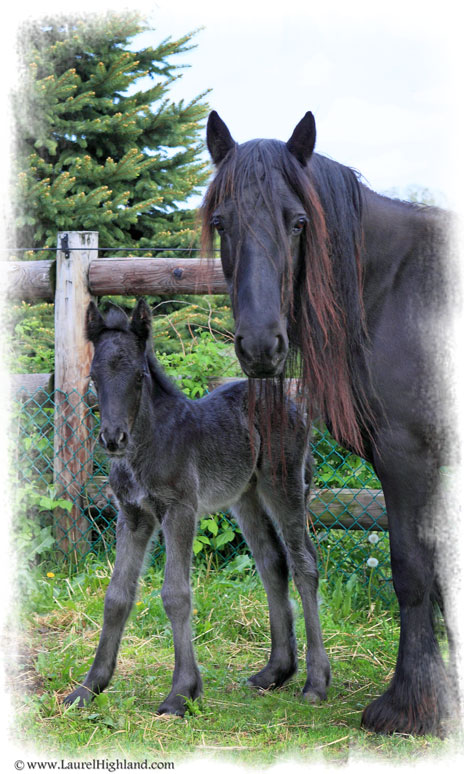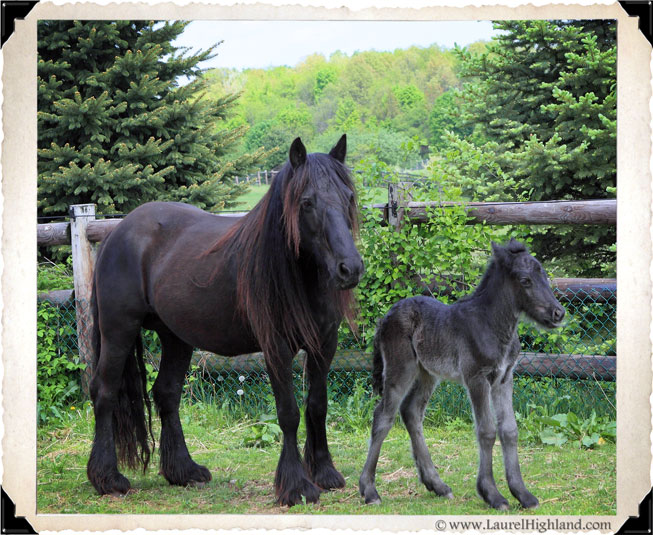 Upcoming Fell Pony Foals
We are expecting foals from the following breeding pairs in 2013. Please contact us for more information if you are interested in any of these upcoming foals.
Castle Hill Dainty X Laurelhighland Union Jack
Sleddale Wild Rose V X Waverhead Model IV
Lownthwaite Monarch X Laurelhighland Maestro
Sleddale Lib V X Laurelhighland Union Jack
Lune Valley Dolly X Laurelhighland Maestro (offspring could be bay or black)
Brackenbank Poppy X Laurelhighland Maestro
Laurelhighland Lyric X Waverhead Model IV
Laurelhighland Piper X Waverhead Model IV
Unless otherwise noted above, foals are expected to have black adult color.

All Fell pony foals are imprinted, extensively handled, halter-trained, DNA-tested, microchipped, and registered with the Fell Pony Society (UK).

Sofia vom Lindenbaum* X Anton 343
*(a.k.a. Sophia Pandora v.L., Star, who was Reserve Champion Friesian at Dressage at Devon 1999)
"Friso van Laurel"
2009 Colt - FHANA/FPS Reg. #840004200901

Friso is a stunning Friesian stud colt with a gorgeous head, great temperament, lots of hair and fabulous trot! His sire is
the famous Anton 343 (shown below) who is well-known for his tremendous amount of hair and stunning good looks!
(Photos below at approx. 6 weeks of age)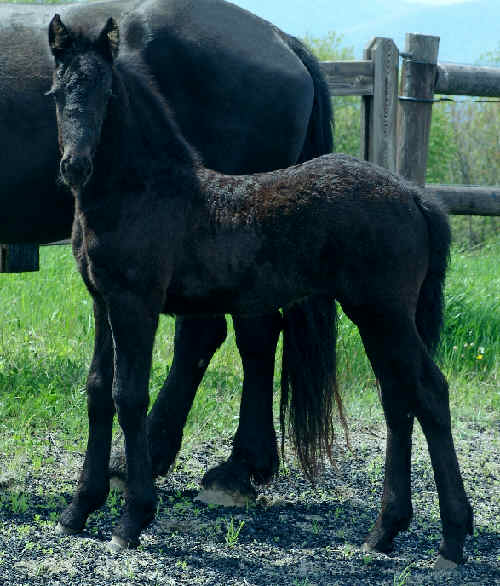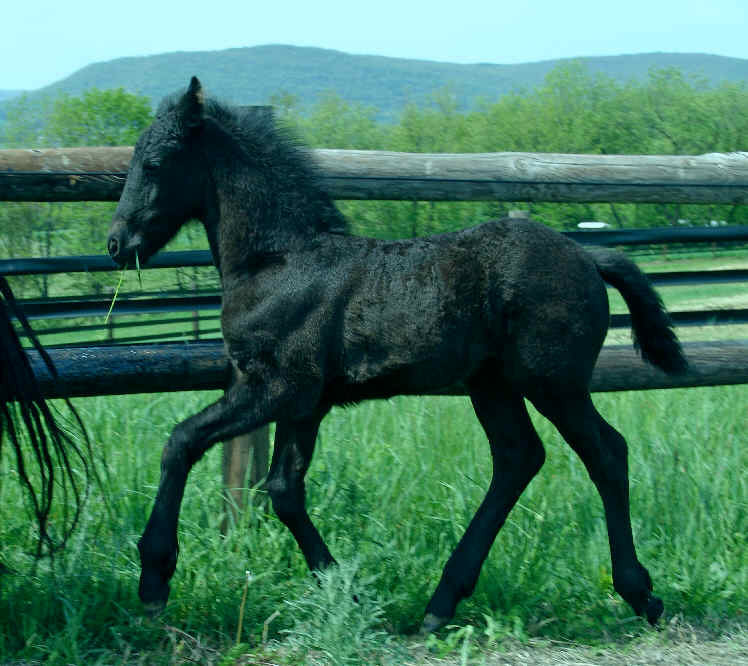 Photos below of Friso in March 2010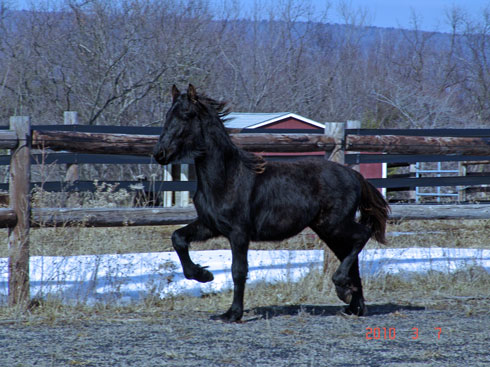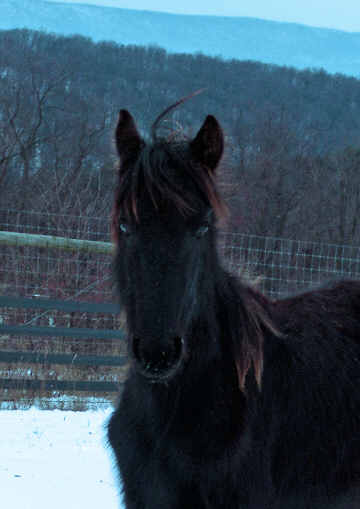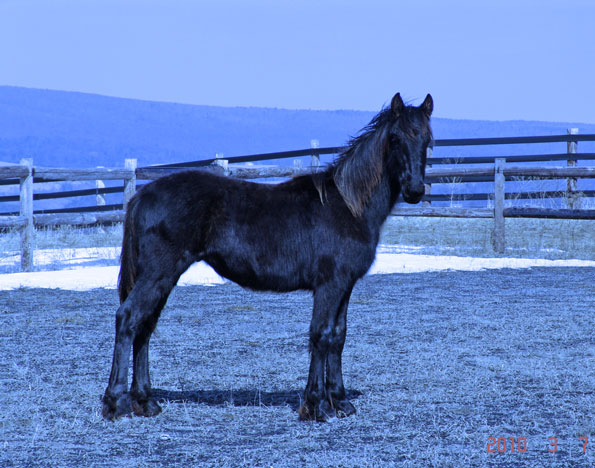 Friesian foals are imprinted, extensively handled, halter-trained, DNA-tested, and registered.

Copyright © 1999-2013 by Laurel Highland Farm. All rights reserved.
Revised: 20 May 2013 22:57:29 -0400.