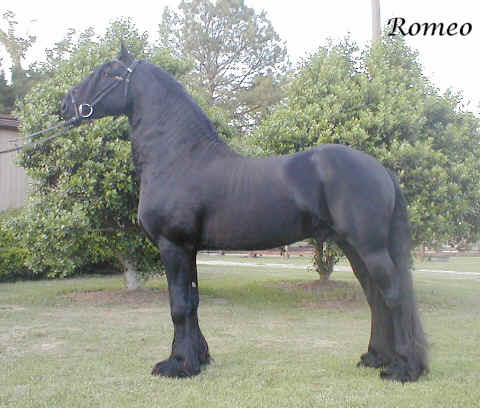 1997 Friesian Stallion "Romeo", shown as a 5-year-old.
Romeo was Reserve Champion of the 2000 FHS/FPZV Keuring for Stallion Approval.
Our Friesians
More About the Friesian Horse
Around the turn of the last century, the Friesian horse was almost extinct with only a few purebred Friesians remaining. Fortunately, Dutch farmers in the Netherlands made an intense effort to save this noble breed and were quite successful. Nonetheless, until about 20 years ago, the Friesian remained one of the Netherlands' best kept secrets. Today, thanks to the efforts of American "Friesian fanatics" widely promoting their discovery, Friesians are finally gaining the public attention in America that they deserve! These eye-catching, beautiful black horses appear downright aristocratic with exuberant "feather", manes and tails, noble expressions and beautifully suspended gaits. The Friesian has not only become a favorite carriage horse in North America, but is rapidly becoming the highly respected dressage mount it should be.

Copyright © 1999-2000 by Laurel Highland Farm. All rights reserved.
Revised: 09 Feb 2018 16:04:40 -0500.