OUR BEST "FOALS" of 2000 and 2002 (!)
Ok now -- indulge me for a minute. . . (What kind of mother would I be if I created an "Our Progeny" page and didn't include these two?!)
Here are our pride and joy, Lauren and Janelle (Mary Jean X Ed!!)

Alright, back to business -- here's a look at some of the offspring our horses and ponies have produced as well as a listing of upcoming foals. . .
For newborn photos, as well as photos of any foals born prior to 2000, see photos below!
For additional photos of foals born 2000 or later, click on any of these "Baby Galleries":












For more recent updates on our new babies and all of our farm happenings,
Follow us on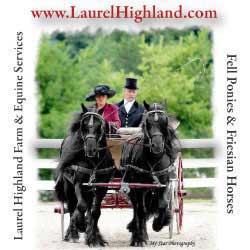 For updated photos of Our Progeny, see also


Purebred Fell Ponies*
*(Note: The breeder of a Fell pony is generally designated by the prefix or first name listed in the registered name -- e.g., "Waverhead" or "Newfarm")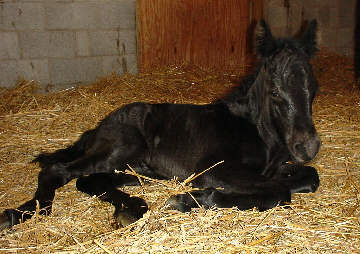 2000 Fell Colt "Laurelhighland Knight Waver" 
Virginia's First Fell Pony in Almost 50 Years!
pictured at 1-day-old
(Owner: Kristen Staehling, Virginia)
Also 1996 Fell Stallion, "Newfarm Midsummer's Night" (not pictured in photo gallery above)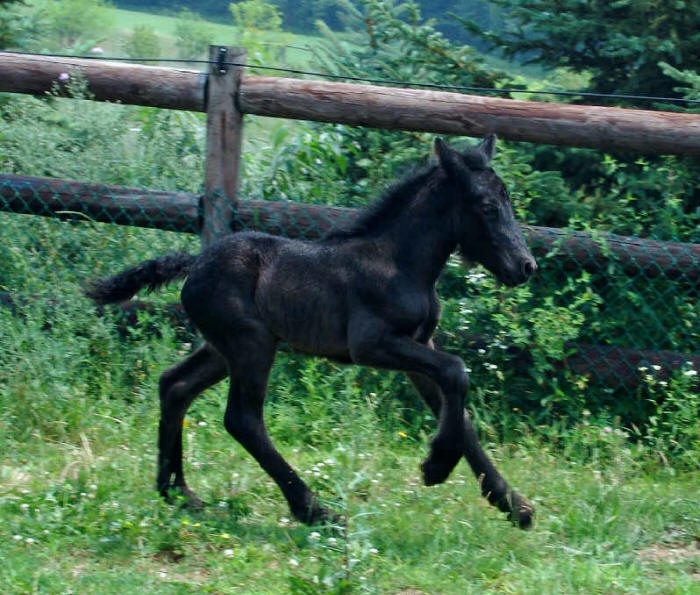 2008 Fell Filly
"Laurelhighland Clementine"
(Shown at 1 day of age)

(Owner: Cindy Diveglia, Pennsylvania)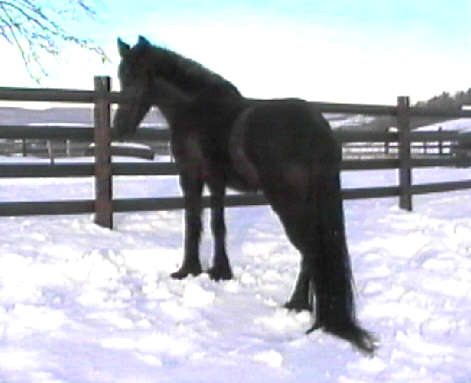 1995 Fell Mare "Newfarm Storm" at Laurel Highland Farm)
Pennsylvania's First Fell Pony!
(Current Owner: Holly Sheetz, Pennsylvania)
Also 1994 Fell Mare "Newfarm Valencia" (not pictured)
(Current Owner: Elise Miller, Washington)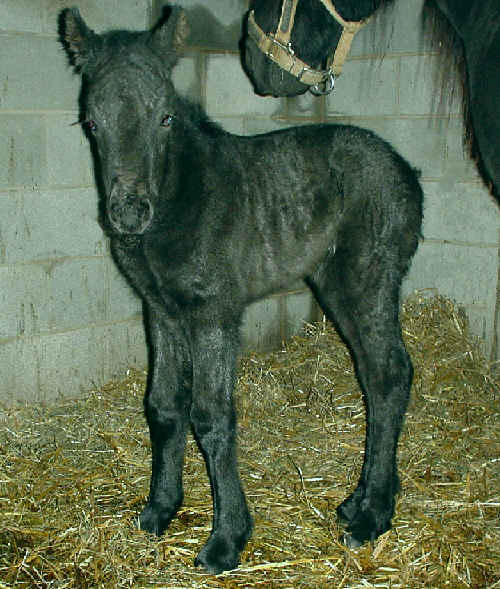 2001 Fell Filly "Laurelhighland Melody" 
pictured at 12-hours-old
Arizona's AND Texas' First Fell Pony!
(Owner: Shannon Albert, Arizona (later in Denison, Texas)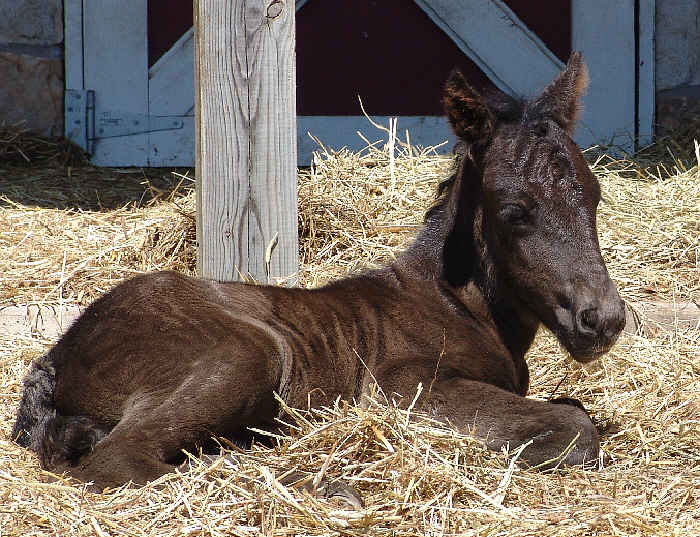 2006 Fell Filly
"Laurelhighland Evelyn"
(Shown at few hours old)
(Owner: Patricia Kashani, Wisconsin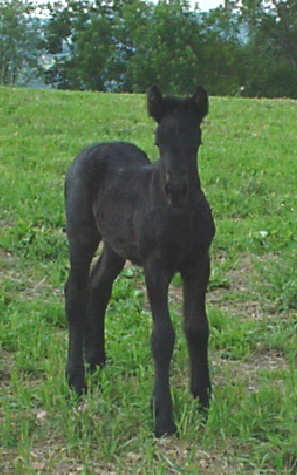 2000 Fell Filly
"Laurelhighland English Rose"
Imported In Utero
(pictured at 10-days-old)
New York's First Fell Pony!
(Owner: Cathy Skivington, Scottsville, NY)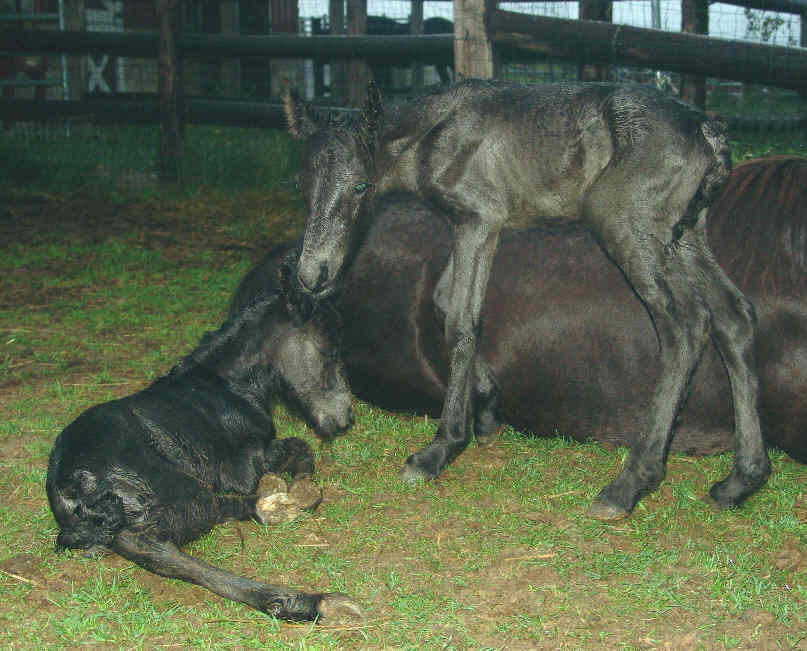 2005 Fell Pony Twins "Laurelhighland Venus" (right) and "Laurelhighland Adonis" (left)
Shown at 12 hours old - wet from Hurricane Katrina!
(Owner: Joanna Gilbert, California)
Also Coming soon -- 2009 Fell Foal!

Newfarm Storm X Waverhead Robbie:


2001 Fell Colt
"Laurelhighland Prince"
Massachusetts' First Fell Pony!
(Owner: Susan Roy, Massachusetts)

2002 Fell Colt
"Scotchvalley Black Jack"
(Owner: Holly Sheetz, Pennsylvania)

Ludworth Lady Grey X Heltondale Bonzo Boy: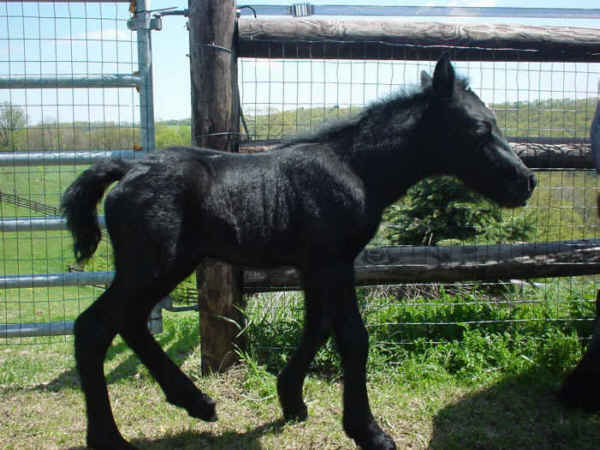 2002 Fell Filly
"Laurelhighland Gypsy"
(Imported in utero)
Shown at 3 days old -- Black but turning grey like her dam!
New Jersey's First Fell Pony!
(Owner: Patty Gallagher, New Jersey)
Ludworth Lady Grey X Waverhead Robbie:




200

4 Fell Filly
"Laurelhighland Sapphire"
Shown at 6 hours old -- Black but turning grey like her dam!
(Owner:

Paul Elliott, Virginia

)

2005 Fell Filly
"Laurelhighland Jewel"


Shown at 2 weeks old


(Owner: Trici Bol

and, Maryland

)

2006 Fell Filly
"Laurelhighland Crown Jewel"
(Shown at 1 day old)
(Owners: Richard and Linda Corlett, California)
Ludworth Lady Grey X

Brackenbank Romany's Prince:

2008 Fell Colt
"Laurelhighland Prince Charming"
(Shown at 6 days old)
(Owner: Lois Kennedy, New Jersey)


2009 Fell Filly
"Laurelhighland Shimmer"
(Owners: Mike and Mary Beth Knott, Michigan)

2010 Fell Colt
"Laurelhighland Mountain Prince"
(Shown at 5 days old)


Lune Valley Dolly X Severnvale Grey Bobby: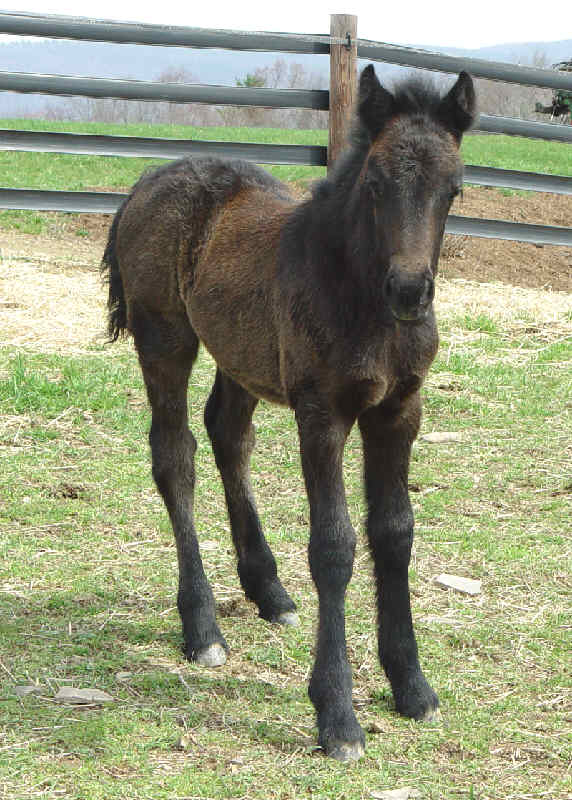 2003 Fell Colt
"Laurelhighland Bobby"
(Imported in utero)
Shown at 2 1/2 weeks old -- later turned grey!
(Owner: Paul Elliott, Virginia)
Lune Valley Dolly X Waverhead Robbie:


2004 Fell Filly
"Laurelhighland Beatrix"
(Shown at 2 1/2 weeks)
(Owner: Lauren Earley, Pennsylvania)


2005 Fell Filly
"Laurelhighland Tabitha"
(Shown at 2 days old)
(Owner:

Adam Schmucker, Ohio

)

2006 Fell Colt
"Laurelhighland Crackerjack"


(Shown at few hours old)


(Owner: John Skivington, New York)
Lune Valley Dolly X Waverhead Model IV:


2007 Fell Filly
"Laurelhighland Beauty"
(Shown at 1 day old)
(Owners: Mike and Mary Beth Knott, Michigan)

2008 Fell Colt
"Laurelhighland Benjamin"
(Shown at 2 weeks old)
(Owner: Victoria Dwight, Massachusetts)
Lune Valley Dolly X Brackenbank Romany's Prince:


2009 Fell Filly
"Laurelhighland Paisley"
(Shown at 1 day old)
(Owner: Janelle Earley, Pennsylvania)


2010 Fell Filly
"Laurelhighland Diva"
(Shown at 1 day old)
(Owner: Janelle Earley, Pennsylvania)

Inglegarth Radiant X Bracklinn Fergus: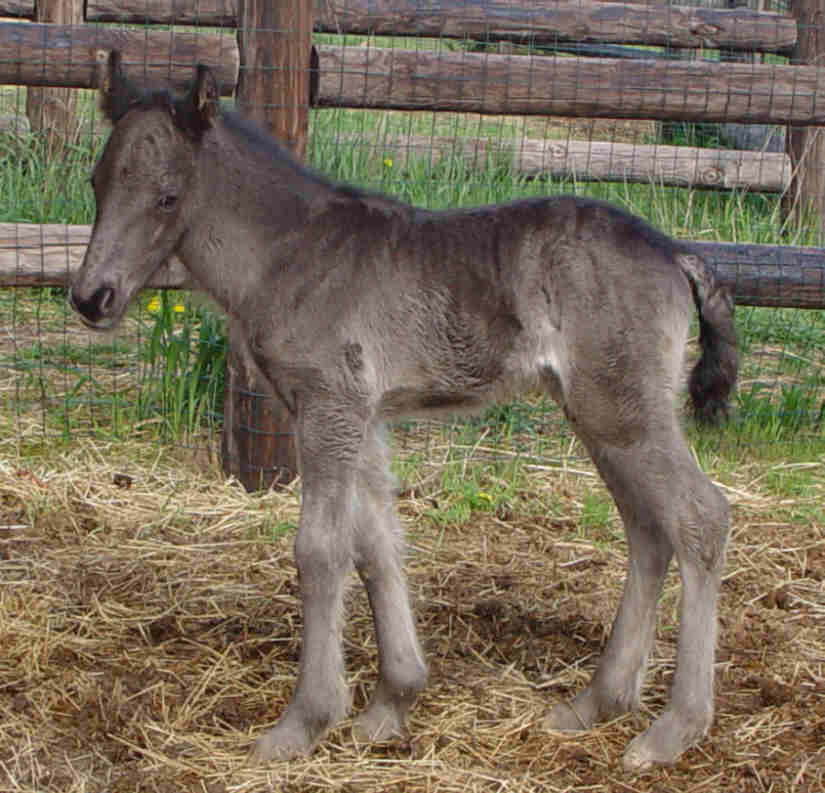 Laurelhighland Rambler
2003 Fell Colt -- Imported In Utero!
Shown at 2 days of age (with legs not quite "unfolded" yet! Was "fawn"-colored then but later turned jet black!
(Owner: Paul Elliott, Virginia)
Inglegarth Radiant X Waverhead Model IV:


2004 Fell Filly
"Laurelhighland Pearl"
(shown at 4 weeks)
(Owner: Ann Riveiro, Pennsylvania)


2008 Fell Filly
"Laurelhighland Black Pearl"
(shown at 1 day old)
(Owner: ET Earley, Pennsylvania)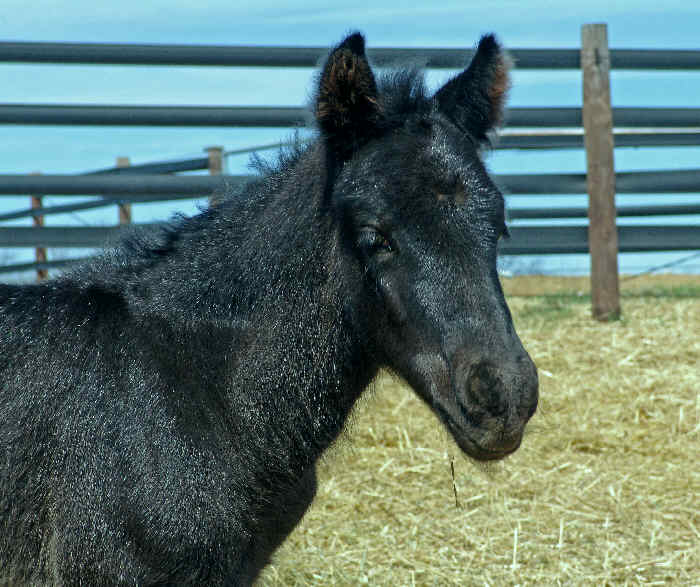 2009 Fell Colt
"Laurelhighland Blackjack"
(Shown at 1 week)
(Owner: Victoria Brown, Connecticut)
Inglegarth Radiant X Waverhead Robbie:


2005 Fell Colt
"Laurelhighland Lucky Lad"
(shown at 2 weeks)
(Owner: Allison Beaudry, California)


2007 Fell Colt
"Laurelhighland Lucky Jim"
(Owner: Rebecca Brouwer, Virginia)

Sleddale Wild Rose V X Rylstone Black Knight:

Sleddale Wild Rose V X Waverhead Model IV:


2003 Fell Colt
"Laurelhighland Lightning"
(Shown at 2 weeks of age -- Imported In Utero!)
(Owners: Ben Beres and Ellen Eisenberg, Vermont)


2004 Fell Filly
"Laurelhighland Blossom"
(Shown at 3 days of age)
(Owner: Maureen Walsh, Connecticut)
Sleddale Wild Rose V X Waverhead Robbie:


2005 Fell Colt
"Laurelhighland Black Prince"
(Shown at 1 week of age)
(Owner: Ed Earley, Pennsylvania)



2006 Fell Colt
"Laurelhighland Robbie"
(Shown at 3 days of age)
(Owner: Patricia Kashani, Wisconsin)


2007 Fell Filly
"Laurelhighland Wild Rose"
(Owner: Reita Parham, Missouri)
Sleddale Wild Rose V X Brackenbank Romany's Prince:
[photogallery/photo00006086/real.htm]

Sleddale Lib V X Towerview Spirit of Joy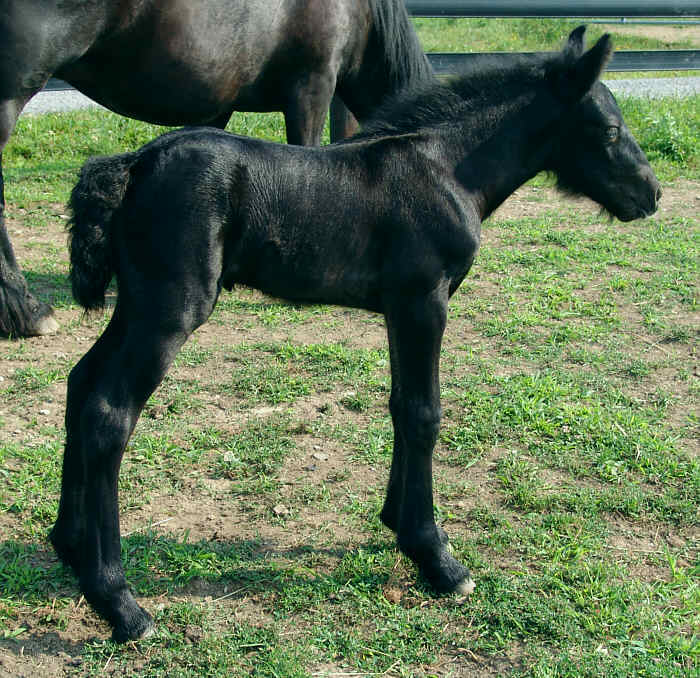 2004 Fell Colt
"Laurelhighland Victor"
(shown at 5 days of age -- Imported in Utero)
(Owner: Lisa Lindholm, Minnesota)
Sleddale Lib V X Waverhead Model IV


2006 Fell Colt
"Laurelhighland Chester"
Tennessee's First Fell Pony!
(Shown as newborn)
(Owner: Kim Rojan, Tennessee)




2009

Fell Colt
"Laurelhighland Sonny Boy"
(Shown as newborn)
(Owner:

Nancy Weiss, California)




2010

Fell Filly
"Laurelhighland Lib"
(Shown at 11 days old)
(Owner: Michael Friebel,

California)

Castle Hill Dainty X Castle Hill Jerry:

Castle Hill Dainty X Brackenbank Romany's Prince:


2004 Fell Filly
"Laurelhighland Petra"
(Shown at 12 hours of age -- Imported in Utero)
(Owner: Ben Beres and Ellen Eisenberg, Vermont)


2009 Fell Colt
"Laurelhighland Stardust"
(Shown at 2 days)
(Owners: ET & MJ Gould-Earley)
Castle Hill Dainty X Waverhead Robbie:


2005 Fell Filly
"Laurelhighland Diamond"
(Shown at 2 days of age)
(Owner: Laura Howell, Florida)


2006 Fell Colt
"Laurelhighland Dazzler"
(Owner: Lynn Meschel-Bovenzi, Massachusetts)
Castle Hill Dainty X Waverhead Model IV


2007 Fell Filly
"Laurelhighland Sparkler"
(shown at 1 day old)
(Owner: Rebecca Brouwer, Virginia)

2008 Fell Filly
"Laurelhighland Brilliant"
(shown as newborn)
(Owner: Tracy and Sara Landman, Maryland)


2010 Fell Colt
"Laurelhighland Orion"
(shown at 1 week of age)
(Orion was born "fawn-colored" but his foal coat will shed out to black.)

Lownthwaite Monarch X Peepings Raven: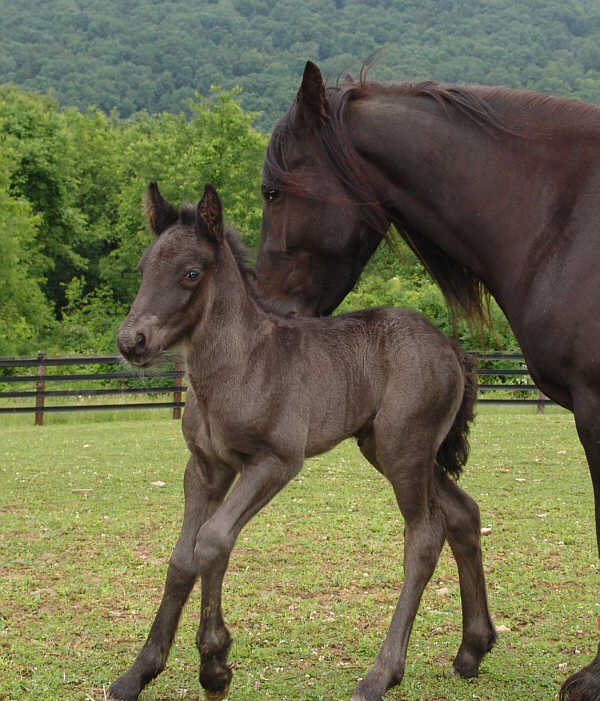 2004 Fell Colt
"Laurelhighland Romany Boy"
(Shown at 3 days of age -- Imported in Utero!)
(Owner: Wendy & Larry Ihlang, Washington)
Lownthwaite Monarch X Waverhead Robbie:


2005 Fell Filly
"Laurelhighland Frivolity"
(Shown at 3 weeks of age)
(Owner: Lisa Lindholm, Minnesota)

2008 Fell Colt
"Laurelhighland Baron"
(Shown at 1 day old)
(Owner: Victoria Dwight, Massachusetts)

2009 Fell Colt
"Laurelhighland Jester"
(Shown at 1 month of age)
(Owners: ET & MJ Gould-Earley)
Lownthwaite Monarch X Waverhead Model IV:

Lownthwaite Monarch X Brackenbank Romany's Prince:


2006 Fell Colt
"Laurelhighland Mozart"
(Shown at few hours old)
(Owner: Lucinda Zimmerman, Pennsylvania)


2010 Fell Colt
"Laurelhighland Mikado"
(Shown at 3 days old)


Brackenbank Poppy X Tunstall Jake: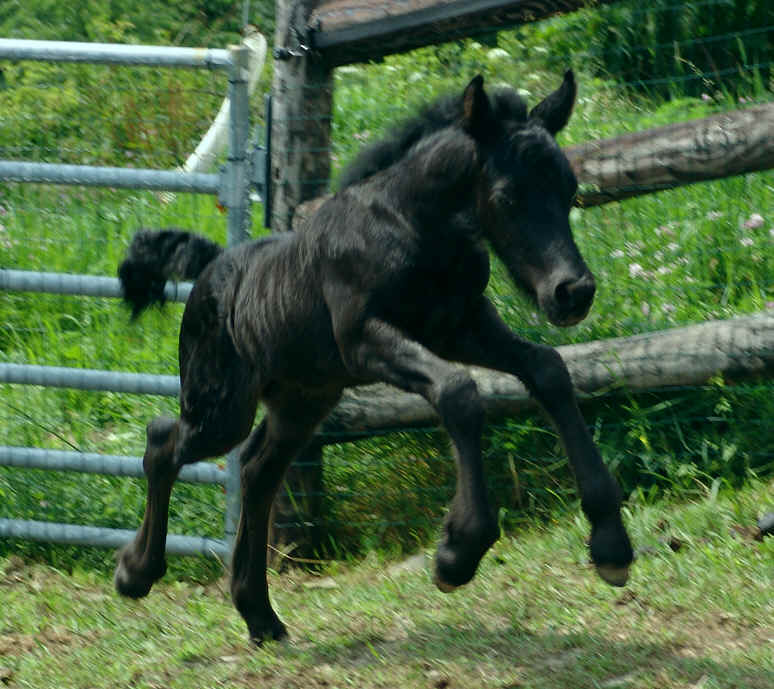 2004 Fell Colt
"Laurelhighland Jake"
(Shown at 7 days of age -- Imported in Utero!)
(Owner: Bruce & Olga Hausser, Massachusetts)
Brackenbank Poppy X Waverhead Model IV:



2005 Fell Filly
"Laurelhighland Athena"
(Shown at 2 days old)
(Owner: Janelle Earley, Pennsylvania)


2006 Fell Colt
"Laurelhighland Zeus"
(Shown at 1 day old)
(Owner: Lori Brock

, Michigan)


2007 Fell Colt
"Laurelhighland Odin"
(Shown at a few hours old)
(Owners: Mike and Beth Knott, Michigan)
Brackenbank Poppy X Brackenbank Romany's Prince:


2008 Fell Filly
"Laurelhighland Romany"
(Shown at a few hours old)
(Owners: Cindy Diveglia, Pennsylvania)


2010 Fell Colt
"Laurelhighland Leo"
(Shown at 6 days old)

Brackenbank Poppy X Waverhead Robbie: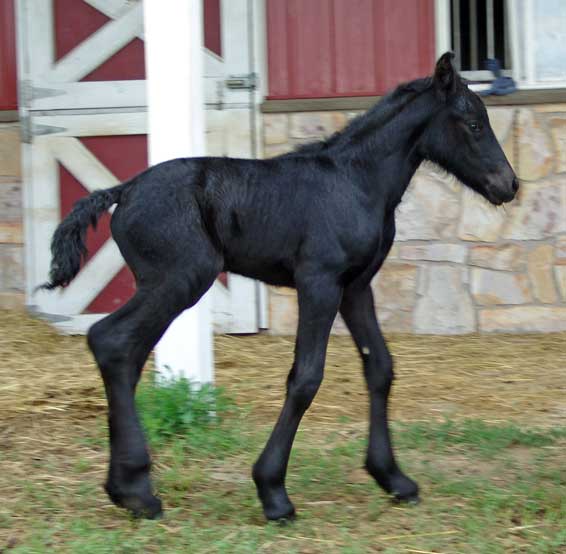 2009 Fell Filly
"Laurelhighland Emma"
(Shown at a few hours old)
(Owners: Kim Rojan, Tennessee)

Hades Hill Freya X Wellbrow Pegasus:

Hades Hill Freya X Waverhead Model IV:


2005 Fell Colt
"Laurelhighland Pegasus"
(Shown at 2 weeks of age -- Imported in Utero!)
Pegasus is black - the "fawn" color shed out! The star will stay - got that from his sire in the UK!
(Owner: Else Brunner, Pennsylvania)


2006 Fell Colt
"Laurelhighland Lancelot"
(Shown at 1 day old)
(Owner: Monica Greaver, Maryland)
Hades Hill Freya X Waverhead Robbie:

2008 Fell Colt
"Laurelhighland Tristan"
(Shown at 1 day old)
(Owner: Lois Kennedy, New Jersey)


2009 Fell Filly
"Laurelhighland Treasure"
(shown as newborn)
(Owner: Janelle Earley, Pennsylvania)

Lunesdale Rock Rose X Waverhead Model IV:


2006 Fell Filly
"Laurelhighland Delilah"
(Shown at a few hours old)
(Owners: Mike and Beth Knott, Michigan)


2007 Fell Filly
"Laurelhighland Rosebud"
(Shown at 1 day of age)
(Owners: Amanda & Bo Russell, California)
Lunesdale Rock Rose X Brackenbank Romany's Prince:

2008 Fell Filly
"Laurelhighland Violet"
(Shown as newborn)
(Owner: Nancy Weiss, California)

2010 Fell Colt
"Laurelhighland Twilight" (shown at 5 days of age with dam)

Lunesdale Rock Rose X Waverhead Robbie: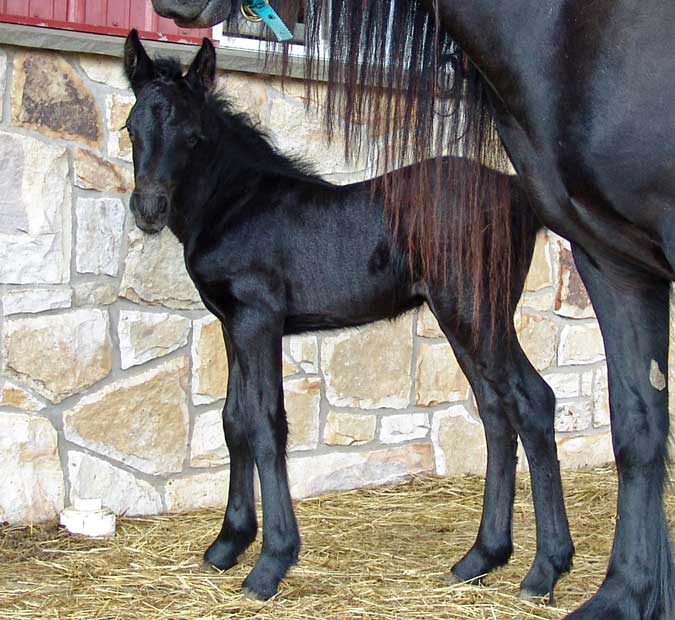 2009 Fell Foal
"Laurelhighland Lily of the Valley"
(Owner: Nancy Weiss, California)

Laurelhighland Sapphire X Laurelhighland Rambler:

Laurelhighland Sapphire X Brackenbank Romany's Prince:

2008 Fell Filly
"Laurelhighland Crystal"
(Shown at 1 day old)
(Owner: Kim Rojan, Tennessee)


2009 Black (Turning Grey) Fell Colt
"Laurelhighland Jasper"
(shown as newborn)
(Owners: ET & MJ Gould-Earley)

Laurelhighland Lyric X Brackenbank Romany's Prince:

Laurelhighland Lyric X Waverhead Model IV:

2009 Black Fell Filly
"Laurelhighland Piper"
(shown as newborn)
(Owner: Lauren Earley, Pennsylvania)

2010 Black Fell Colt
"Laurelhighland Maestro"
(shown at 2 days of age)

Laurelhighland Athena X Waverhead Robbie:

Laurelhighland Athena X Brackenbank Romany's Prince:

2009 Fell Colt
"Laurelhighland Union Jack"
(Owners: ET & MJ Gould-Earley)

2010 Fell Filly
"Laurelhighland Pandora"
(Shown at 3 days old)

Raisburn Lettie II X Waverhead Model IV: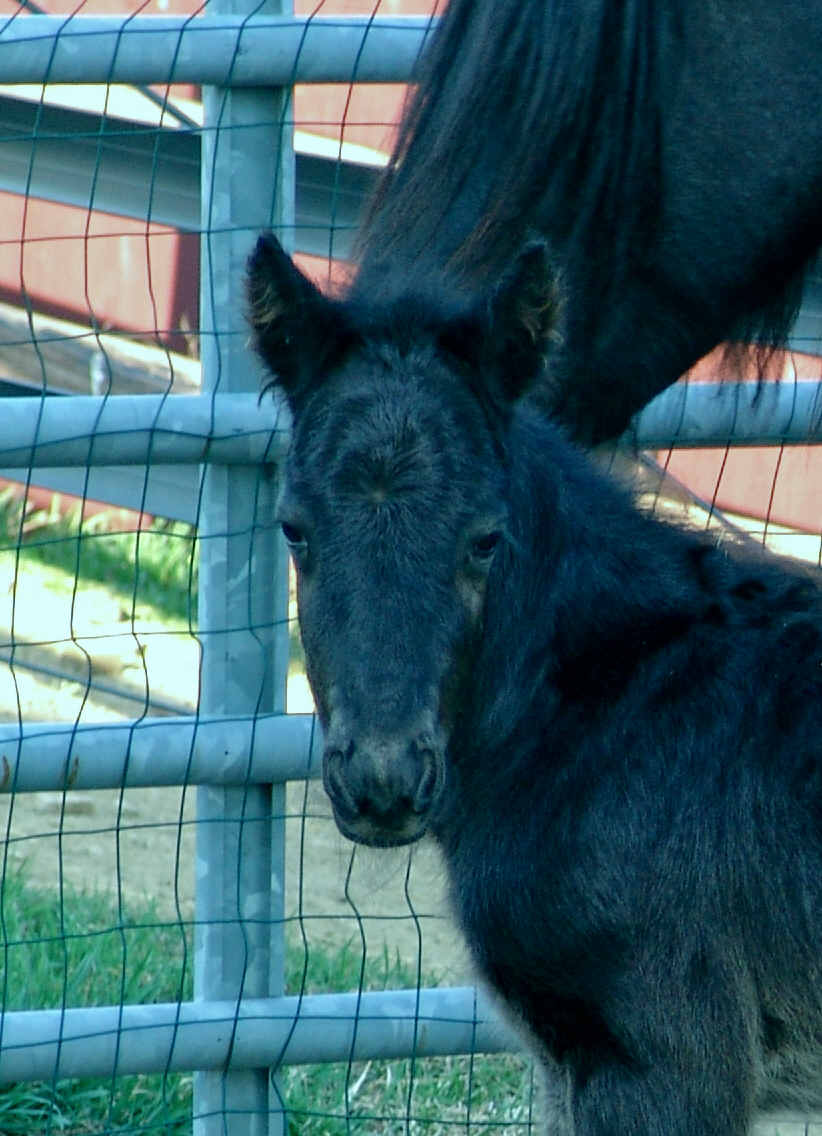 2008 Fell Filly
"Laurelhighland Hadley"
(Shown as newborn)
(Owner: Janelle Earley, Pennsylvania)
More Purebred "Robbie" babies . . .

By Waverhead Robbie
(out of Newfarm Valencia):

1999 Fell Stallion
"Brough-Hill Hadrian's Wall"
(Owners: Erica Brunner and Joan O'Brien,
Ontario, Canada)

By Waverhead Robbie
(out of Midnightvalley Poppy):

2001 Fell Filly
"Regal Spring Storm"
(Owners: Diane Dupont, Virginia)
More Purebred "Model" babies . . .

By Waverhead Model IV
(out of Waverhead Mayflower II):

2007 Fell Colt
"Deerstones M&M"
(Owner: Joan O'Brien, Ontario, Canada)

By Waverhead Model IV
(out of Townend Mountain Gypsy III):

2007 Fell Filly
Majestic Abbey
(Owner: Dan Shanahan, Ohio)
By Waverhead Model IV
(out of Carrock Sybil):

2005 Fell Filly
Majestic Lucy
(Owner: Ann (Ohio) )
By Waverhead Model IV
(out of Drybarrows Penny):

2006 Fell Colt
"Sandhaven Jamison"
(Owner: Amy Kroll, Michigan)
By Waverhead Model IV
(out of Carrock Sybil):

2006 Fell Filly
Majestic Magic
(Owner: Dan Shanahan, Ohio)
By Waverhead Model IV
(out of Waverhead Mayflower II):

2009 Fell Colt
"Deerstones Twix"
(Owner: Joan O'Brien, Ontario, Canada)
Josephine de Mona,

Model

X Tinus PM: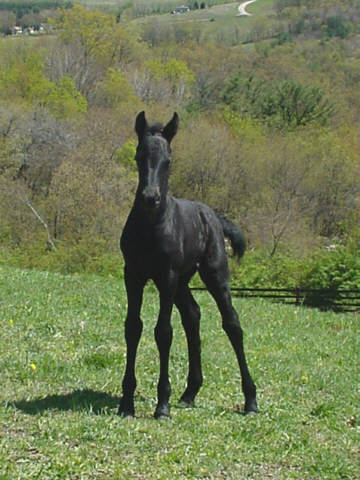 2002 Friesian

Filly
"

Hannah v.L.

" pictured as 2-

week

-old


This baby is out of Dressage at Devon Champion Friesian X USDF Horse of the Year -- WOW!


(Owner:

Pam Reeves, Pennsylvania)
Sophia Pandora v.L., Star X Wicher, 1995 FPS/World Champion Friesian Stallion: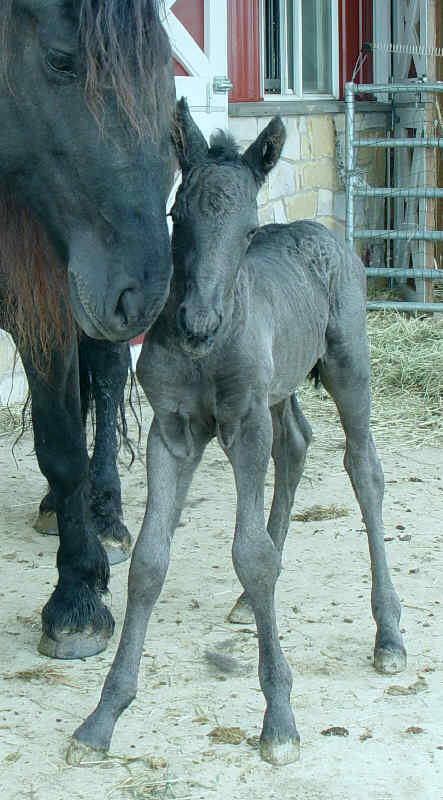 2003 Friesian colt "

Lukken von Laurel.

" pictured as 3-

day

-old
(Owner: George Frank

, Pennsylvania)
Sophia Pandora v.L., Star X Romeo


2004 Friesian colt "Nicolaas

von Laurel.

" pictured at 12 hours old
(Owner:

Deb Henke, Indiana)


2005 Friesian filly "Ritskje

von Laurel

"
pictured at 3 days old
(Owner: Delores Brown, Pennsylvania

)


2006 Friesian filly "Teakje

von Laurel

"
(Shown at 3 days old)
(Owner: April Renae-Pennington, Wisconsin

)
Sophia Pandora v.L., Star (a.k.a. Sofia vom Lindenbaum) X Anton 343: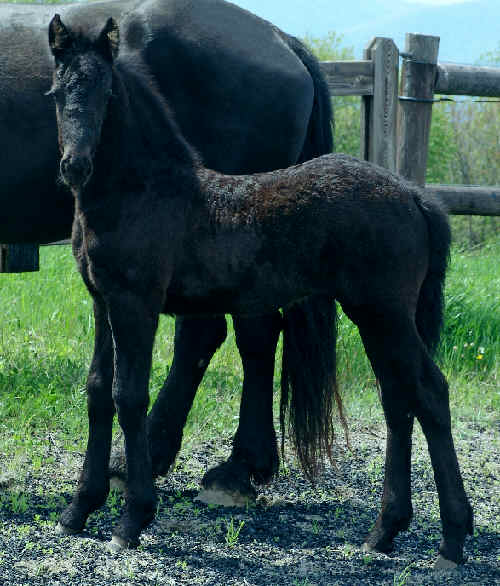 2009 Friesian colt "Friso van

Laurel

" pictured at 6 weeks
FHANA/FPS Reg. #840004200901866
Below: Friso's Sire, Anton 343 (Photo - Boiselle Archive)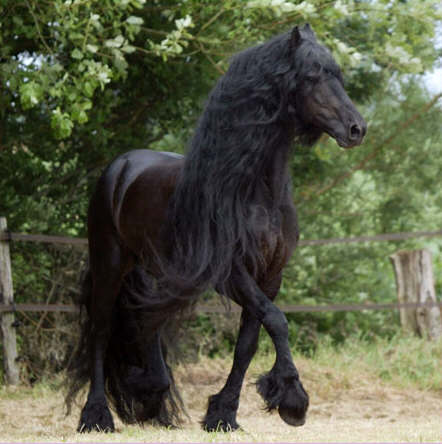 Copyright © 1997-present by Laurel Highland Farm & Equine Services, LLC. All rights reserved.
Revised: 09 Feb 2018 16:04:40 -0500