Laurel Highland's "Virtual Tour":
Photo and Video Gallery
This page is under construction, representing the beginnings of our "Virtual Tour". Our goal is to help you better "visit" us online. We hope to add more recent photos and video clips of all of our ponies and horses, our veterinary hospital and mountaintop farm in the near future. Check back again here soon!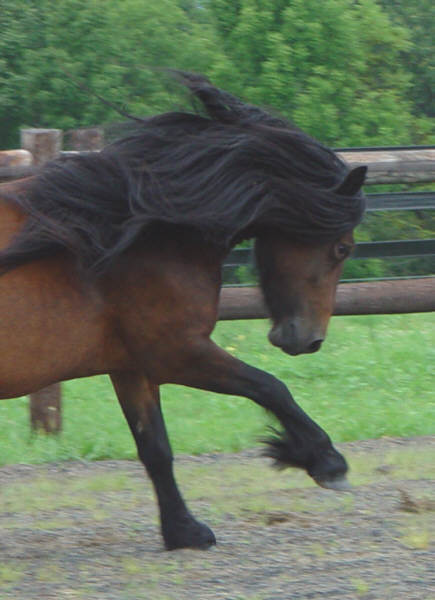 (Above) Very rare bay Fell pony mare, Lune Valley Dolly -- more details and video to follow soon!
(Below) And here's a closer look at two of our "boys" -- Model and Romeo. . . Enjoy your visit!

Waverhead Model IV
1999 Imported Fell Pony Stallion
(Waverhead Pearl X Lownthwaite Gary)
FPS Registration No. FP51000C*/Stallion License No. FP289R
Breeder: The late Mr. Jim Bell, Waver Head, Brocklebank, Wigton, Cumbria, England

Back in 1999, after almost a year-long search with the help of the late Mr. Jim Bell, we finally found the right stud colt to add to our breeding program. As a yearling and just prior to export, Model placed 3rd at the 2000 Fell Pony Stallion & Colt Show. His pedigree is exceptional with both champion sire and dam: Model's sire, Lownthwaite Gary, was Winner of the Two-Year-Old Colt Class at the FPS Annual Breed Show. At the FPS Stallion and Colt Show, Gary was also awarded Youngstock Champion and Reserve Supreme Champion in 1993, Three- and Four-Year-Old Champion in 1995, and Supreme Champion in 1998. In addition, in 2002 he won the "Best Progeny" class at the FPS Breed Show for the 4th time in succession! Model's dam Waverhead Pearl has also been a champion many times in the show ring, including 2-year-old and Youngstock Champion at the FPS Breed Show and Reserve Fell Pony Champion at Lowther.
Model has a wonderful temperament and is officially licensed for breeding by the Fell Pony Society (UK). He has been recently trained under saddle and in harness and began competing in driving in 2003. See below for photos at liberty and actions shots in competition, as well as video clips which show off his beautiful movement! Despite not only his young age but also his first year of competition, Model has earned multiple championships in driving already - including the coveted Concours d'Elegance! See the "News" page for more details!
(Note: Click on a thumbnail below to view the image full-size.)
Photos of Model in Competition ~ May, 2003
Note: Video clips below are best viewed actual size (thumbnail) rather than full-screen. Try a shorter clip first to see if it works for you! If you don't have a media player on your computer (such as Windows Media Player), you can download a great little player for free by clicking on the light blue box below.



Video Clips of Model ~ May, 2003
And if you have a high-speed Internet connection, just for fun try this one! This is a computer-generated mix of all of the above clips, set to some "funky" music the computer picked out!! (I wish I could figure out how to delete the psychedelic stuff in the middle but otherwise the effects are pretty neat . . . It was all computer-generated – all I had to do was load the clips and the computer did the rest!)
We hope you enjoy seeing a beautiful Fell in action! And you might even catch a few glimpes of the surrounding Allegheny mountains here in north central Pennsylvania.

More Photos of Model at Liberty ~ May, 2003
Click on any thumbnail below to view a larger version of the image.

Romeo
a.k.a. "Romeo de Roza"
1997 Approved Friesian Stallion
(Rozalinda, Star X Aswyn van de Pluum, Preferent)
FPZV #044639197

All photos below by Scott Trees - 2003. Stay tuned for a breathtaking video to be added soon!!!
Click on any photo to see a larger version, and click on the forward and back arrows below to see more photos!

Copyright © 2003 by Laurel Highland Farm. All rights reserved.
Revised: 09 Feb 2018 16:04:40 -0500.