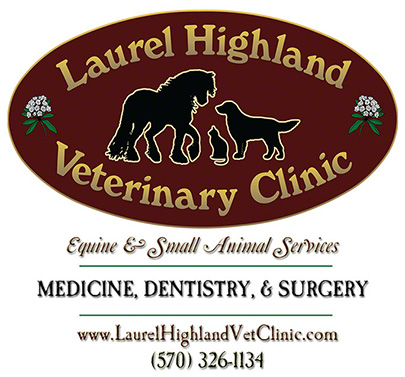 A Division of Laurel Highland Farm & Equine Services, LLC
2586 Northway Road Extension
Williamsport, PA, 17701
vetclinic@laurelhighland.com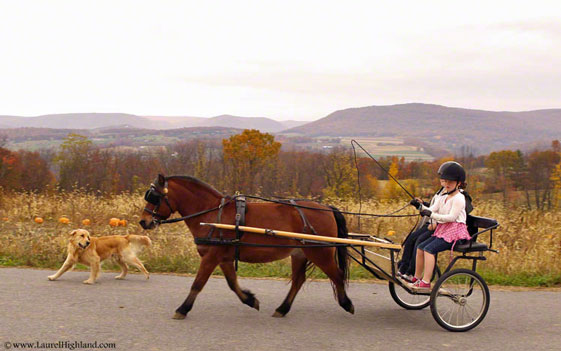 Jack, one of our Golden Retrievers, and Janelle Earley (at age 8) driving her Dartmoor Pony, Holyrood Dromore
Welcome to Laurel Highland Veterinary Clinic!
For more than 25 years, we have provided outstanding veterinary services throughout the greater Williamsport area and surrounding regions. These include a broad range of equine and small animal services at our state-of-the-art facility, including medicine, dentistry and surgery. So whether you need help for your horse, your dog, or your cat, you can count on us to take good care of your four-legged friend and provide outstanding patient care!
In addition to Laurel Highland Veterinary Clinic, which includes both an equine and small animal on-site facility, we also offer a mobile practice for horses for your convenience. Browse our website to learn more, and contact Dr. Earley to schedule an appointment today! vetclinic@laurelhighland.com
A Bit About Dr. Earley
Dr. Edward Earley, DVM, FAVD/Eq, earned his veterinary degree at Michigan State University and has been practicing veterinary medicine here in Pennsylvania since 1985. He established his own practice, Williamsport Veterinary Service, in 1987. Dr. Earley also farms and operates Laurel Highland Farm (est. 1995), thereby providing hay and feed for both the horses and cattle at our farm and at the veterinary clinic. The clinic is also conveniently located just a mile away from the farm. Thus, eventually Williamsport Veterinary Service officially merged with the farming business and became Laurel Highland Farm & Equine Services, LLC. In 2010, the small animal clinic was reopened after major remodeling was completed. Laurel Highland Veterinary Clinic is owned and operated by Dr. Earley.
After more than 25 years as a veterinarian, Dr. Earley continues to practice general veterinary medicine and surgery. In addition, he has developed a passion for dentistry, and is dedicated to achieving state-of-the-art dental care for all of his patients. He is currently an Equine Fellow with the Academy of Veterinary Dentistry. He has also been a member of the AAEP's Dentistry Committee and is currently a member of the AAEP's Educational Programs Committee. Dr. Earley is actively involved in continuing education involving equine dentistry for both veterinary students as well as practicing veterinarians.


Copyright © 1999-2014 by Laurel Highland Farm & Equine Services, LLC. All rights reserved.
Revised: 09 Feb 2018 16:04:40 -0500.