Exhibtions
Equitana 2000

Equine Affaire Ohio 2003

Equine Affaire Ohio 2004

Midwest Horse Fair 2005

Equine Affaire Ohio 2005

Laurel Highland Fell ponies have also been shown at multiple exhibits coast-to-coast, including Laurelhighland Tabitha at Equine Affaire Ohio 2006; Laurelhighland Prince and Laurelhighland Jake at Equine Affaire Massachusetts 2005; Laurelhighland Victor at the Midwest Horse Fair 2006; and Laurelhighland Rose Petal at the Sacramento Horse Expo 2006!


Our Fell ponies debut at the Equine Affaire ~ Ohio 2003!
Click here for lots more photos and details!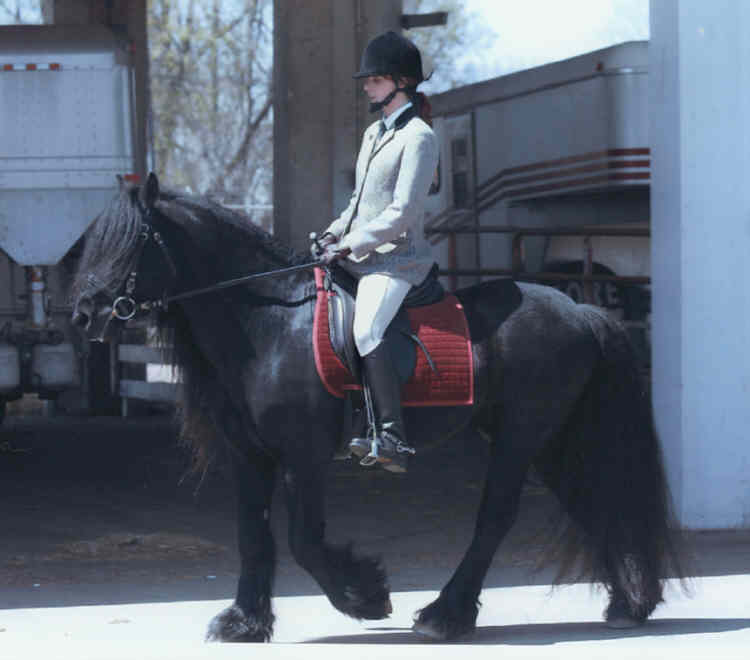 Sarah Mueller, who was visiting us from Narnia Fell Ponies in Germany, joined us to help promote Fell ponies at Equine Affaire Ohio in 2003. Here she is shown warming up one of our Fell pony stallions, Waverhead Robbie, for the Fell pony breed demonstration.
The Fell pony booth and demonstrations at both Equine Affaire Ohio and California in 2003 were sponsored by the Fell Pony Society of North America, Inc. (www.fpsna.org)

Our Fell ponies at Equine Affaire ~ Ohio 2004!
(Click on the arrows to reveal more photos, and click on any thumbnail to view photo full-size)
Waverhead Robbie and Muffy Seaton at Equine Affaire Ohio 2004
Muffy Seaton's driving clinics were excellent, and Robbie did a great job - showing the crowd how smart Fell ponies are by how quickly they learn and how willing they are to work! Here he was being ground-driven by Ms. Seaton during the clinic which focused on "Bending the Combined Driving Horse". (And no, we don't normally ground-drive in a show harness -- Robbie was initially hitched to the carriage in formal harness for the first part of the clinic, and was unhitched to be ground-driven right on the spot.)
The Fell pony booth and demonstrations at both Equine Affaire Ohio and California in 2004 were once again sponsored by the Fell Pony Society of North America, Inc. (www.fpsna.org)
Representing the Fell pony breed at the 2004 Ohio event were our licensed stallions, Waverhead Robbie and Waverhead Model IV, in addition to Dan Shanahan's 2-year-old filly Majestic Rose. Sheila Amdor, a Fell pony owner from Iowa, also came to help us with the booth. For the breed demonstration, Fell ponies were shown in-hand, under saddle and in harness, and they all were a big hit! Nicole Cable also participated in Muffy Seaton's driving clinics with our Fell stallions at the show. Robbie was used in the clinic on "Bending the Driving Horse" while Model was used in the "Pleasure Driving" Clinic. Most people found it hard to believe that neither stallion had been driven since last year, and each had been running out all winter on our snowy mountaintop farm with their bands of mares!

Our Friesian Stallion "Romeo" makes a surprise debut
at the Equine Affaire ~ Ohio 2003 . . . and successfully competed at Las Colinas Dressage Festival, too!

(Photo courtesy of Mane Photo)

Our 6 y.o. Friesian stallion "Romeo", who was Reserve Champion Stallion at the 2000 Friesian Keuring, recently became "Approved" for breeding when he passed the 50-day FHS/FPZV Stallion Performance Test in Texas. Our Texan friends from Royal Palm Friesians, who also attended Equine Affaire, brought Romeo to Ohio for us so we could bring him home from there. We weren't planning on showing him at this event, since we were there primarily to show our Fell ponies, but Romeo is such a beautiful animal it seemed silly for him to just sit idle in a stall the whole time! With some last minute planning, Romeo ended up being a big crowd pleaser at the Friesian Horse Society booth, patiently allowing crowds of fans to pet him and photograph him. His rider from Texas, Dana Gilbert, rode him in one of the Friesian breed demonstrations, doing a musical freestyle dressage exhibition (shown above). Some of the spectators referred to Romeo as the "'Mr. G.Q.' of Stallions!" ~ from his photos you can probably see why!
He is really an incredible animal. Sadly, he is for sale since we are looking for a good show home for him. We are so busy with our children and our ponies we just don't have time to do this magnificent boy justice. Dana rides him so nicely we decided that we will allow her compete with him in dressage back in Texas for now until we find the right home for him. Recently he competed at the Las Colinas Dressage Festival and earned a 68 at Training Level Test 4. He is schooling at First Level. Romeo was raised at our farm since he was a foal and we are very proud of him!

Copyright © 1999-2007 by Laurel Highland Farm. All rights reserved.
Revised: 09 Feb 2018 16:04:42 -0500.